Olives ~ Grapes ~ Pistachios ~ Pomegranates
Welcome to J & B Ag Enterprises, your comprehensive source for trellising and training materials for a variety of trees and vines, including olives, grapes, pistachios and pomegranates.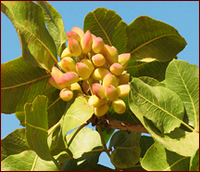 J & B Ag Enterprises was founded by Jim Wells. The Wellses are an old Central Valley family with longtime ties to agriculture. Jim has over 45 years experience in agriculture. Jim has worked in various capacities for a diverse farming corporation in the Central Valley, including development of new plantings.
We have been meeting customers' product needs for over 25 years and enjoy meeting new challenges. We are always happy to discuss growing practices or make recommendations for specialized products in difficult or unusual situations. We now have the added option of providing installation and planting services for projects large and small. Our goal is your successful project!